INNOVEZ STAINLESS STEEL POOLS
Innovez Pools are pre-engineered and pre-fabricated stainless steel swimming pool systems, built with the finest precision and the highest standards in quality. Constructed in high-grade, low-carbon 316L stainless steel, Innovez Pools are rugged and highly durable with minimal maintenance needs in the long term. Innovez Pools are modular and fabricated in sections, and fully welded at the joints upon installation for absolute watertightness. This is a superior solution that is guaranteed to offer owners a greater peace of mind.
KEY FEATURES
Pre-engineered design provides precision engineering that removes on-site guesswork, reduces the margin of error and costly delays.

Pre-fabrication of all stainless steel components at an off-site plant enables a more efficient construction process. When the construction site is ready, the stainless steel pool can be hoisted to site in one single unit or in sections for installation.

All section joints and seams are fully welded and rigorously tested to ensure that the stainless steel swimming pools are completely leakproof.

Like conventional pools, stainless steel swimming pools can be completed in various finishes, such as tiles or liners.

Stainless steel is lighter than conventional building materials and can mitigate loading issues for elevated pool installations.

Stainless steel pools are highly durable, corrosion-resistant even in harsh aquatic environments and will never crack.

In the long term, stainless steel pools are highly cost effective with minimal maintenance requirements and no need for structural repairs to the pool shell.
Innovez Pools are stainless steel swimming pool systems, which are superior in quality, quicker to build, effortless to maintain and highly cost-effective in the long term.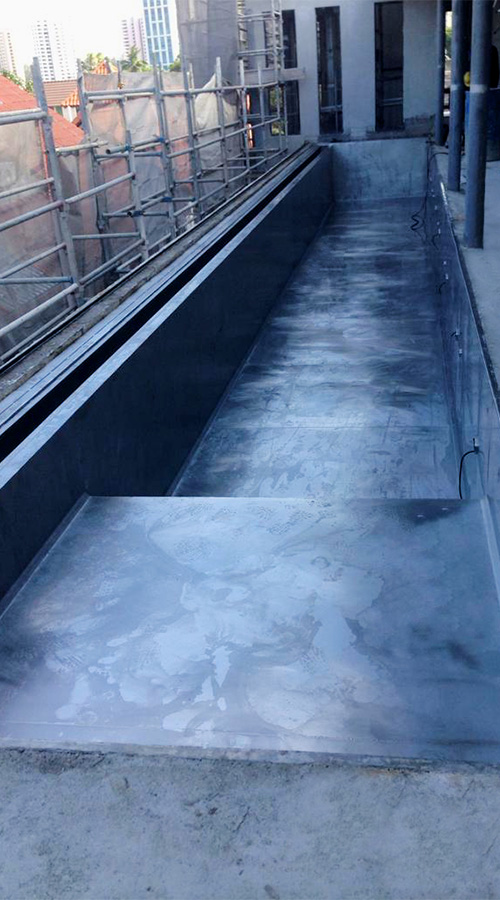 RENOVATE WITH INNOVEZ POOLS
Innovez stainless steel pools provide a superior option not just for new builds, but for the renovation of old swimming pools. For existing facilities in particular, there are often challenges with site space constraints, noise management and the extended period of facility closure for the renovation works. These challenges are better managed with Innovez Pools as the pre-fabrication process reduces on-site works and shortens the construction period significantly. This means the facility's downtime is kept to an absolute minimum.