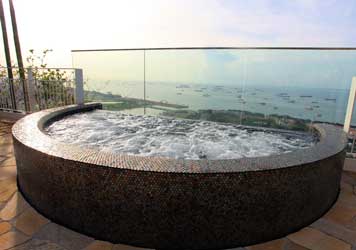 Innovez Engineering is the leading design and build specialist of commercial swimming pools and spas. We provide the complete solution for swimming pool building works – encompassing design, construction, manufacture and supply of equipment and systems.
At Innovez Engineering, we work with the best-in-class systems, equipment and innovative building technologies towards the aim of maximising engineering capability and improving building methodology.
Since the successful completion of one of the world's most iconic swimming pools at Singapore's Marina Bay Sands Hotel in 2010, Innovez Engineering has gone from strength to strength. With over a decade's experience, Innovez Engineering is now recognised as a leader in the design and construction of swimming pools and spas.
With over a decade's experience working on large commercial pools,
Innovez Engineering brings a wealth of experience in pool design.
Innovez Engineering provides a total solution in the construction of
large commercial swimming pools – from design to commissioning.
Our experience equips us with the technical know-how to
troubleshooting and solving the most complex renovation projects.
Innovez Engineering is a swimming pool specialist with an established reputation for consistent innovation and the highest level of quality.
Aloft Bali Seminyak – Marriott
admin
2022-02-11T03:21:48+00:00
Marina Bay Sands Pool
Completed in 2010, the 150-metre long infinity swimming pool sits on the 57th storey of the Marina Bay Sands Singapore, spanning across the top of the property's three hotel towers. To accommodate movement from building settlement and wind force, the iconic swimming pool was constructed entirely out of stainless steel for flexibility and maximum strength. The stainless steel pool was pre-engineered and pre-fabricated off-site, enabling an efficient and fast construction process that took merely seven months. Successfully delivered by Innovez Engineering, the Marina Bay Sands swimming pool offers an excellent case study of the superiority of stainless steel construction.
A Better Way to Build Pools
Pre-engineered and pre-fabricated with the finest precision, stainless steel swimming pools are composed of various steel members that are rigorously welded together upon assembly to form a watertight enclosure. Unlike conventional concrete swimming pools, steel pools are highly durable and do not deteriorate and leak over time. Steel is highly flexible and can accommodate movement, enabling architectural possibilities such as bridge design. In addition, the high strength-to-weight ratio of steel makes it an excellent choice of material for large elevated pools or cantilevered designs, given its reduced impact on structural loading and support.